Priest (R.Priestly)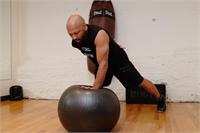 Priest (R.Priestly) instructs the following:



Tabatas are a set 20/10 format. Twenty seconds of work and 10 seconds to rest. This class will explore creative ways to use this timing sequence.




Kick It! is the perfect combination of technique and heart pumping cardiovascular training in a full body workout that will not only push you to new levels of fitness, but will be the ultimate stress reliever. Priest is a martial artist with black belts in three separate martial arts styles. He combines this knowledge with over 15 years of personal training experience to create a quality fitness program. You will learn defensive movement, proper kicking and punching technique, and practical combinations. These sessions will utilize jump rope, shadow fighting, heavy bag, and focus mitt intervals. Participants of all levels are welcomed. "Kick It!" is a fun way to burn calories while learning the forms and techniques of self-defense and kick boxing.