HIT the Park (Bennett Park)
This class is taught by: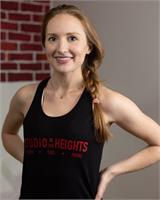 Clare is a National Academy of Sports Medicine Certified Personal Trainer, with specialities in Corrective Exercise Training and Sports Performance. Clare is a Singer/Actor from Dublin Ireland, currently working Off-Broadway. Combining her theatrical training with PT, Clare believes in a systematic, periodic, safe and most importantly enjoyable approach to working out.
Fun Fact! She recently trained in Circus Skills; the Lyra, Silks & Rope for a new musical production!
Outdoor agility and strength in Bennett Park, just accross from the Studio. Class runs outside from May - November and it is only moved inside for driving rain or under 40 degree weather.
Upcoming classes: