Living with Purpose in 2019: Intention Setting and Yoga Workshop
This class is taught by: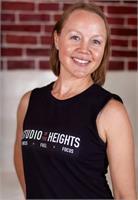 1. What is your fitness/yoga philosophy?
Work hard and have fun! I also really like this quote by Dr. Kenneth Cooper: "We do not stop exercising because we grow old - we grow old because we stop exercising."
2. My favorite class(es) are?
I guess that depends on the day and what I need. I like to find a balance between strengthening, cardio and yoga classes throughout the week. I really love the small group circuit/boot camp style classes like Heights Intensity Training and most any yoga class I can get myself to!
3. What classes do you teach?
At Studio in the Heights I teach Yoga for Athletes.
4. Why do you like to teach them and what they can expect from you in your class?
Growing up as, and continuing to compete as, an athlete, and more recently incorporating yoga into my life, I understand how training and yoga really can (and should) complement each other. My classes focus on proper alignment to avoid injury and breath to stay focused during intense moments both on and off the mat. I try to incorporate my philosophy of "work hard and have fun" into each class.
Living with Purpose in 2019: Intention Setting and Yoga Workshop


Where focus goes, energy flows. Kick off the new year by focusing on intentions for the year ahead. This
workshop will help you reconnect to your purpose and guide you through setting an intention based on
your inner desires using short guided writing and reflection exercises, meditation, and yoga.